Our initiatives
Environmentally-friendly technology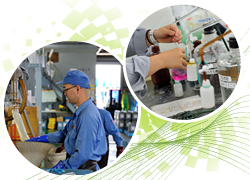 Hexavalent chromium compounds like chromium trioxide and potassium dichromate have been widely used for plating purposes, given the high corrosion resistance they impart.
However, these substances are highly toxic and can pose a threat to humans and the environment, so there has been a move away from them.
Nippon Hyomen Kagaku was an early adopter of environmental initiatives and has developed conversion coating agents as an alternative to hexavalent chromium that are more eco-friendly.
We will continue to bring high-quality products to the market that are environmentally sound.
Tackling the energy crisis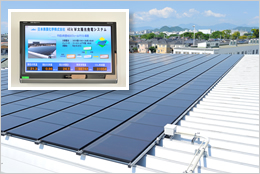 Solar panels: since the Great East Japan Earthquake, initiatives to cope with the energy shortage have become a major issue for companies across Japan.
Nippon Hyomen Kagaku actively engages in generation and conservation efforts to contribute to a stable domestic supply of power.
In terms of power generation, we have installed solar panels on the roof of our plant in Chigasaki, Kanagawa Prefecture. We offset some of the power consumed at the plant through this additional supply of energy.
We plan to continue adding solar panels in order to generate more electricity. On the power conservation front, we have been gradually swapping air conditioners on-site for models with lower power consumption. Furthermore, we encourage personnel to develop and share an awareness of power conservation in order to keep unnecessary use in check.
Contributing to the local community

Invest Kanagawa is an initiative undertaken by Kanagawa Prefecture that seeks to support the manufacturing sector, one of Kanagawa's key industries, by enabling local firms with excellent technology and business models to further invest in their facilities and equipment. The project aims to attract promising firms to the area.
Nippon Hyomen Kagaku's technologies for the manufacture and development of eco-friendly metal surface treatment were recognized as eligible for this program in July 2008.
The company received a government subsidy of 850M JPY, which we used in 2009 to construct a new plant and research lab totaling 2.636㎡ on a plot adjacent to our existing plant in Chigasaki.
The local municipality recognized Nippon Hyomen Kagaku's technical expertise and environmental commitment and has high hopes for what we will do to vitalize local industry in the region.
Childcare support

Nippon Hyomen Kagaku is a diverse work environment in which personnel enjoy stable positions within the company. We have put particular emphasis on an internal childcare support system in order to contribute to the growth and development of the next generation.
These initiatives were recognized by Kanagawa Prefecture, which certified us as a "Childcare Supporting Firm in Kanagawa" in 2009. Obtaining this certification requires that:

The firm must explicitly establish internal systems and measures as required by the Act on Childcare Leave, Caregiver Leave, and Other Measures for the Welfare of Workers Caring for Children or Other Family Members.
The firm must explicitly appoint representatives to support personnel in maintaining a balance between work and childcare.
The firm must explicitly and periodically publish its childcare support initiatives, both internally and externally.
The nature of support plans and initiatives must be suitable vis-a-vis the applicable legislation.